WELCOME to the Fort Collins Series of Poker
Colorado's Largest and Longest Running Charity Poker Tournament
The goal of the Fort Collins Series of Poker (FCSOP) is to raise funds for the Realities for Children Triumph Awards by offering a series of FREE Poker Tournaments each year. Each one of our tournaments offers a variety of prizes. This season you could win one of 4 SEATS IN THE 2012 WORLD SERIES OF POKER! We will also be awarding a "Getaway Vacation" plus a cruise for two guests to THE CARIBBEAN! (Courtesy of www.cardplayercruises.com) Players can also gather points throughout Season 5 and win the coveted Triumph Cup. The Triumph Cup is a trophy that declares you as the "Best Poker Player in Northern Colorado" which is some serious bragging rights! It is also filled with gift certificates from local businesses, a total value over $500!
All FCSOP events are held in order to raise awareness of the Realities For Children Triumph Awards program. The Triumph Awards are collegiate scholarships given to local youth who have not only survived physical and sexual abuse in their past but have truly triumphed over it personally, socially and academically. These youth are inspirational people who have fought through their years in the system and are about to emancipate out of it. They are only 18 when they leave governmental care. They typically have no family to turn to for help or guidance and yet they dream of college and a better life. For these children Realities For Children provides scholarships at various levels to help them make those dreams come true. Every time you attend a Fort Collins Series of Poker event you are taking part in a community wide effort to get more of our young people into college and on the path to being successful in today's challenging environment.
Donations are accepted at our events, or here, but they are never solicited nor required for entry. No purchase or payment of any kind is necessary to enter or win this sweepstakes or contest.
****************************************************

Want to help us raise funds?
Collect pledges from your friends and family!
****************************************************
Tournament Schedule: Season 5 2011-2012
All tournaments: Registration begins at 10:30, cards fly at noon.
Sept 18. "Challenge Event" Beach House Grill
We "Challenge" every player to bring a friend to become a VIP Donor.
Any player who brings a new donor to the Triumph Awards will be entered into a drawing for a custom poker chip or playing card set.
We also "Challenge" all FCSOP players to utilize a Triumph Awards Pledge Form to help spread the word about our cause and events. It's easy to do, just hang the Pledge Form up at work or, talk to your family and friends about our events. The player who raises the most money for the Triumph Awards will receive special recognition and a wonderful gift. You can bring all collected donations to our event or the Realities for Children office.
Players will also be encouraged to "Challenge" their friends to see who can outlast one another.
Nov 12th Colorado Feed & Grain "Poker Instructional"
Join Jan and Linda at 2pm. Spend 4 hours with two of the top women in poker and Poker Hall of Fame inductees. This "Instructional" will have a group presentation as well as live table demonstrations about poker strategy, position betting and other methods that will improve your poker game. Cost to attend is $100 and you can pre-register Here. There are only 40 seats available. We encourage you to pre-register now. We will also be hosting a "Meet and Greet" lunch with Jan and Linda at 1pm. Cost to attend lunch is $25. Lunch tickets are available Here.
Nov 13th "Caribbean Adventure Tournament" Colorado Feed & Grain
This annual event is one of our most fun and highest attended FCSOP events. We encourage you to wear "Beachy" attire and will give a prize to the loudest Hawaiian Shirt worn by a player. We will play down to one winner (no cash split option) and award a cruise for two valued at $1500 through CardPlayerCruises! Registration for this event begins at 10:30am and cards fly at noon. Registration is in person ONLY at the Colorado Feed & Grain.
January 29 "Sports Themed Event" Beach House Grill
This event is always a big draw and held each year on ProBowl weekend. All players are encouraged to wear their favorite team jersey, we host a large silent auction of sports memorabilia and have various "Team" challenges.
March 4 "The Getaway" Beach House Grill
This event is our newest FCSOP event. We will be offering a ski package or other "Getaway" package to the winner of the tournament. We will also host drawings and other fun things to do during the event. There will be lots of "splash pot" prizes as well.

April 29th "Celebrity Knockout Tournament" Sunset Event Center

This tournament has grown by epic proportions over the last 2 years. We started with one celebrity and then flew in 6 last year. Our celeb guests have been seen on The Amazing Race, Nip Tuck, ESPN and many other shows and include names such as Tiffany Michelle, Maria Ho, Jena Delk, Linda Johnson and Jan Fischer.
This Season we will have Jennifer "Jennicide" Leigh joining us as well as Mr. Tom McEvoy!
This weekend will be your last chance to qualify for "The Finals", so don't miss your opportunity to knock out a celebrity and earn a spot in the the World Series of Poker!


May 20th "The Finals" Beach House Grill
This event is "Invite Only" and any player who has made a final table, the top 20 points leaders, sponsors and our Season Five volunteers are invited to play. At the finals we will offer a $1500 Seat in the World Series of Poker and other sponsor prizes.
****************************************************
*
The Triumph Cup
This is a trophy awarded to the winner based on a points system similar to the "WSOP Player of the Year" system. All throughout the year we will be filling The Triumph Cup up with gift certificates from local sponsors. Each gift certificate will be worth at least $25 and by the final event The Triumph Cup will have quite a value stuffed inside! The cup will be at all of our events so the players can see it and watch it grow! Don't miss your opportunity to win!****************************************************
Season 4 2010-2011
DVD's of the Season 4 Celebrity Knockout Tournament and 'A Night at the Four Dueces' are now available for just $10! Half of each sale supports Realities For Children's Triumph Awards Program. To get your copy please contact the office at (970) 484-9090!


Season Four of the FCSOP was our most successful Season yet. We are so humbled and feel so blessed to have been able to raise over $20,000 for abused and neglected children here in Northern Colorado. Thank you to everyone who supported the FCSOP with donations to the Realities for Children Triumph Awards and, our business sponsors for assisting with underwriting our events.


*************************************************************
Testimonials from the Professionals
The Fort Collins Series of Poker is a professional, organized event that has received accolades from many professional poker players because of their well run tournament and the great contribution the FCSOP makes to Realities For Children's Triumph Awards program. To find out more about the Triumph Awards visit: www.TriumphAwards.com.
| | |
| --- | --- |
| | Linda Johnson: "I was honored to be invited to participate in the Celebrity Knockout Event produced by the Fort Collins Series of Poker in March, 2011. Significant funds were raised through donations during the weekend with proceeds benefiting Realities for Children, a nonprofit organization dedicated to helping neglected and abused children. Activities during the weekend included tours of the Vintages Winery and the New Belgium Brewing Company, a tasty dinner at the Rodizio Grill, a "Meet and Greet" at the private Donnan estate, and a very well-run poker tournament. I participate in many charity benefits each year and commend the FCSOP for organizing and hosting such a wonderful event. Each celebrity got "rock star" treatment and was made to feel special. The entire weekend was well organized and every detail was handled professionally. We enjoyed getting to meet the locals and seeing a great deal of Fort Collins. Thanks so much for the incredible hospitality; I'm eager for a repeat visit." |
| | Jan Fisher: "Kudos to the FCSOP for their recent charity event benefiting Realities for Children. Not only was much-needed money raised for this most worthwhile organization, a lot of fun was had by those who participated in the event. The "celebrities" had stellar times and were treated amazingly well. A cocktail meet and greet was one of the highlights not only for those of us who visited from out of town but for the local philanthropists and business people. Supporting such a wonderful charity and getting to meet some of the recipients of the scholarships that were funded made this event a must-do. I hope to return next year." |
| | Jena Delk: "I am forever changed by meeting the silent heroes that make Realities for Children possible. When you attend a Fort Collins Series of Poker event you are helping to make an educated future for needed youth. Right from the start, the friends of the Fort Collins Series of Poker impressed me with their efficient, professional manner – an approach that not only inspired confidence, but generated OUTSTANDING results for the Kids! By partnering with Fort Collins Series of Poker, I have been able to develop some wonderful relationship while raising awareness for the Realities for Children Triumph Award. Thank you for this honor!" |










Sean M. Dougherty, Realtor

Re/Max Alliance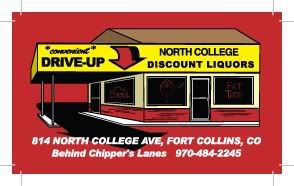 The Fort Collins Series of Poker Charity Event is a non-profit endeavor designed to increase awareness of the Realities For Children Triumph Awards Endowment Fund for abused and neglected children. In accordance with the Colorado Gaming Commission, "No purchase or payment of any kind is necessary to enter or win this contest". All donations are voluntary, tax deductible contributions and will not increase or decrease a players chance of winning a donated prize. The Realities For Children Triumph Awards Fund is a 501(c)(3) fund of the Community Foundation of Northern Colorado. Tournament payouts, event schedules and prizes are subject to change. There is NO GAMBLING allowed at FCSOP Events.